Philips to Sell Lighting Unit to Investors for $2.8 Billion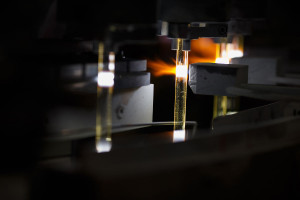 (Bloomberg) — Royal Philips NV agreed to sell a majority stake in its Lumileds lighting components unit to a group of investors as Chief Executive Officer Frans van Houten focuses the Dutch company on the consumer health-care market.
The buyers led by GO Scale Capital beat a rival consortium consisting of KKR & Co. and CVC Capital Partners and will pay Philips $2.8 billion for the 80.1 percent stake. GO Scale is a fund sponsored by GSR Ventures, which has offices in Beijing, Hong Kong and Silicon Valley, and Oak Investment Partners.
"It's a good deal for Philips," said ING Bank analyst Robin van den Broek. The winning bid was higher than expected as analysts valued the whole asset at about $2.7 billion, he said.
The sale marks a turning point for Philips, which has sold lighting products since its founding in 1891. The separation of the unit, the world's biggest maker of lamps and bulbs, mirrors Munich-based Siemens AG's move in mid-2013 to spin off Osram Licht AG as an industrywide shift toward more-efficient light-emitting diodes intensified competition.
GO Scale Capital said in an e-mailed statement today the purchased business will benefit from the cooperation with its other lighting assets and allow to expand its automotive LED business. The fund's other investments include Boston Power, a U.S.-based manufacturer of electric vehicle batteries, and Chinese company Xin Da Yang.
Automotive Technology

"The team brings deep knowledge of the LED components and automotive technology industries," GO Scale Capital said. "This uniquely complements Lumileds' high-power LED manufacturing footprint and expertise, and the combination offers opportunities for the company to pursue further growth and scale."
The new company will continue under the name Lumileds. Sonny Wu, co-founder and managing director of GSR Ventures and chairman of GO Scale Capital, will serve as interim chairman. Wu, a Chinese investor in solar power and lighting technology, has made co-investments with Cheng Kin Ming, a Hong Kong property tycoon who has amassed about $20 billion in solar manufacturing assets.
Lumileds, which sells lighting components to the general illumination, automotive and consumer electronics markets, has operations in more than 30 countries. In 2014, it generated sales of about $2 billion.
Public Offering

The buyers paid an "attractive price" for the stake and will allow Lumileds to expand capacity, Van Houten said during a conference call with journalists. Philips will retain the remaining stock. As part of the transaction, the company will transfer about 600 patent groups tied to LED manufacturing and automotive lighting and expects the transaction to be completed in the third quarter, the CEO said.
Philips shares dropped 0.8 percent to 26.43 euros at the close in Amsterdam, valuing the company at about 24.7 billion euros.
Philips plans to carry out an initial public offering of its overall lighting business next year to focus on a potential 100 billion-euro ($107 billion) consumer health-care market.
The Dutch company is focusing the company on medical technology, betting that patients will increasingly monitor their health and nutrition on smartphones and other devices. The company is creating a business called HealthTech, bringing together products such as medical scanners, toothbrushes and espresso machines.
REF: BloombergBusiness
Commercial Lighting Tampa FL, 813-935-4448 / 813-514-1264 / 813-514-1265 / 813-932-1086 / 813-932-1547 / 813-935-8235

CommercialLightingTampa.com, 8139354448 / 8135141264 / 8135141265 / 8139321086 / 8139321547 / 8139358235
Call Us Today!
813-514-1266
813-935-4448
8135141266
8139354448