How to Outfit Your Entire Home With LED Light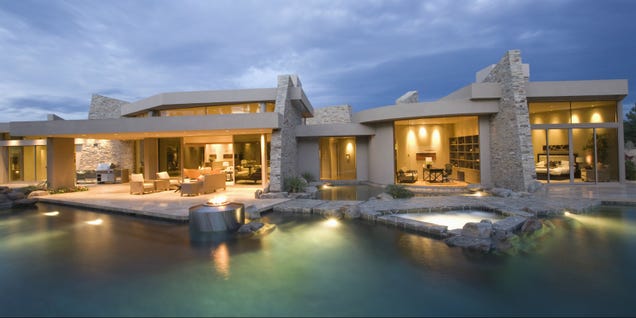 Now that incandescents have gone the way of the dinosaur and everybody's generally agreed that CFLs are terrible, it's finally the dawning of the age of LED. And there has been no shortage of bulb makers stepping up with offerings to hang in your house. Here are some of the latest and greatest options available on the market today, and where to put them.
For General Lighting

The A-line bulb, most notably the venerable A19 shape, is one of the most common types in use today. They're found in both lamps and overhead fixtures alike; heck, even the light that goes on over your head when you have a brilliant idea is an A19. These are among the first styles that LED makers like Cree, GE, Philips, and Polaroid (not to mention the menagerie of boutique manufacturers crowding into the market) began retrofitting specifically because of their ubiquity. As such, A19s are now nearly indistinguishable from classic incandescents both in terms of light quality, output, and bulb features.
Walk through the lighting aisle of your nearest home improvement center and you'll see what I mean—30W, 40W, 60W, 75W, and 100W LED's now fill the shelves where incandescents and CFLs once stood. They're dimmable, steppable, and fit in all the same fixtures as your old bulbs but suck down a fraction of the energy. What's more, they're now quickly becoming available in a myriad of shapes and sizes, from miniscule 1W replacements for nightlights to decorative candelabras and globe-shaped bathroom rounds. So long as your fixture has a medium-base socket, these bulbs should plug right in.
Some notable models include the following: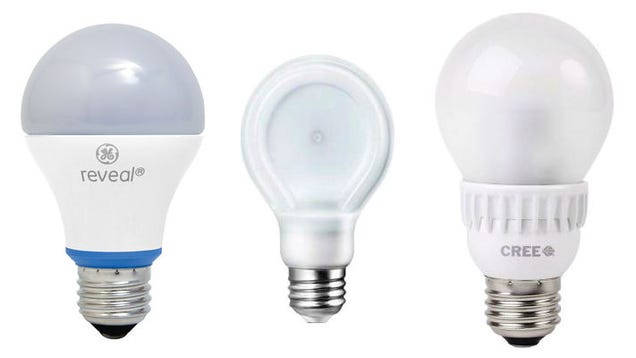 The Cree TW Series: This newly released line incorporates neodymium into its glass housing which blocks specific yellowing wavelengths of light. This allows the bulb to produce that comfortably warm 2700K glow without making everything in the room look yellow. It's a nice option for people that don't like the clinical blue tint that daylight (5000K) bulbs produce and need a more natural looking light source in the kitchen than what conventional warm whites generate. Available in 40W and 60W varieties, these output 450 and 800 lumens respectively, are rated at 25,000 hours, and cost just over a dollar a year to run.
GE Reveal Series: GE's Reveal LED bulbs are similarly doped with neodymium to block out the unwanted yellow wavelengths. They're available as both 40W and 60W dimmable equivalents (360 and 570 lumens, respectively) as well as a 65W R30-style spotlight for recessed lighting fixtures. They're not fully omnidirectional like the Crees are, but with a spread of 220 degrees, you'll have to look close to tell the difference.
Philips Slim Style: If you've got an exposed socket (or the fixture doesn't incorporate shades) and you're looking for an LED bulb that not only works well but can start a conversation, you'll want to take a serious look at the Philips Slim Style. These dimmable 40W and 60W bulbs are easily identifiable by the fact that they're nearly flat rather than the traditional hemispherical shape. They're available in both warm white (2700K) and daylight (5000K) temperatures with light outputs of 450 and 800 lumens apiece and are rated at 25,000 hours. However, their color rendering index (CRI) is only rated at 80—ten points lower than both the Crees and GEs. This means that the things they're illuminating will resemble what they'd look like under natural light slightly less than what they would using the other brands.
Spots and Floods

Not every fixture in your home will benefit from an A-line's omnidirectional glow. The recessed fixture above your kitchen sink or the automated security lights in your backyard, for example, can both benefit from the directional BR30 and PAR38 size flood lights.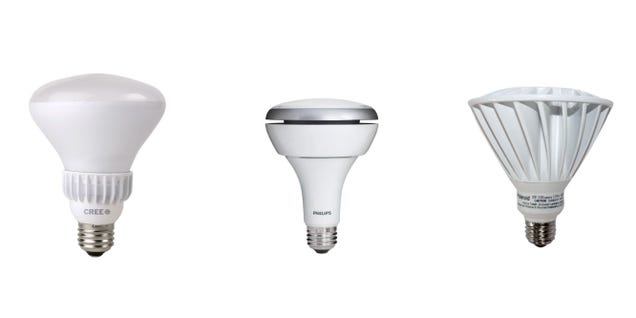 Cree's BR30 offerings come in both warm and cool color temperatures and are rated as 65W equivalents with 650 lumen outputs. Their bigger PAR38 cousins only come in 90W equivalent (though that's only 18W of actual draw) at 3000K, however, they will cast either a 27 or 47 degree beam—the narrower perfect for spot lighting, the wider better for weatherproofed exterior fixtures.
Philips' dimmable line of 65W equivalent flood lights are another solid option. At 750 lumen, they're a bit brighter than the Crees while generating the same CRI score of 80. You will notice that they're significantly heavier than other models of the same wattage, so bear that in mind if trying to install them on a delicate filament-line track light.
Polaroid also makes an impressive PAR38 for outdoor fixtures. It outputs 2200 lumen at 4100K temperatures (so it's a cool white light) using only 30W of power. Plus it's rated for 40,000 hours of operation. It's an ideal solution for your home's security lighting—all the brightness, none of the sickeningly orange glow of High Pressure Sodium—that should keep you off the ladder for years between replacements.
GE also makes some very good indoor/outdoor PAR38s. Though they aren't as overwhelmingly bright as the Polaroid, these 75W equivalents are available in three color temperatures—2700, 3000, and 4000—as well as a number of beam angles—from 12 to 40 degrees. So long as they're in a protective, weather resistant housing, these GE's can make for excellent exterior spot and accent lights.
For Replacing Fluorescent Tubes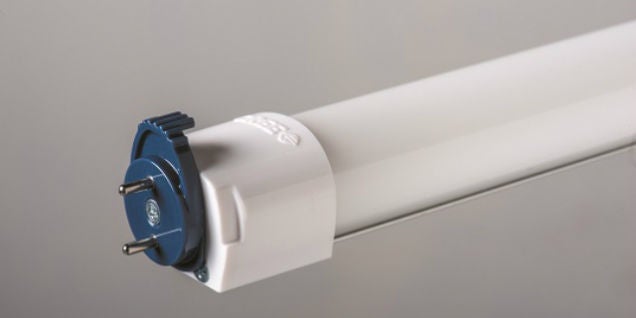 Despite being in most every home garage in America, fluorescent tubes such as the A8 and T8 sizes have been generally ignored by major LED manufacturers until recently. What's more, very few of the existing options don't require you to either replace the ballast outright or at least rewire it. Heck, even the new Cree T8 that we told you about a few weeks back is being marketed as a commercial product. That means you're probably going to have to sneak into the Home Depot Pro if you want to replace yours.
Smart Lights

If you're going through the trouble of replacing your existing bulbs with greener alternatives, they might as well be a bit smarter too.
Philips Hue is the big name in smart home lighting right now. We've covered both the system itself and the extensive third party control apps here on the site, and there's a good chance you already know somebody that has the system. The long and short is that it's a wonderfully powerful and intuitive set-up that unfortunately costs a boatload of money. You're looking at $200 for the starter set and another $65 for each extra bulb you buy. If that kind of money doesn't make you blink, then you should by all means enlist.
GE's smart option is a bit more affordable—albeit a bit more clunky—than the Hue. This dimming GE flood light takes advantage of Lutron's Clear Connect wireless technology. So rather than having to rewire an outlet (or series of outlets) if you want to install a dimmer switch, the Clear Connect system puts the dimming function onboard the bulb itself. You can control up to ten of these bulbs using an included remote (as opposed to an app on your phone). You'll be hard pressed to find this product though, as it's only available through select Sam's Club stores.
The Insteon Smart Bulb system is another great choice for your home's automated lights. While they don't change every color of the rainbow as the Hue's do, these bulbs are a heck of a lot less expensive to buy and the system offers a slew of control options. Everything runs through a central command hub like the Hue but also includes stuff like wall switches,keypads, and wireless mini remotes in addition to the mobile app. You can even integrate a wireless security camera or even your Nest thermostat into the control suite. Starter kits run between $120 and $350, depending on which bells and whistles you want.
These are just a few of the bigger names in LED lighting—we didn't even have space to dive into the likes of TCP, Ecosmart, Feit, and the litany of other bulb makers currently flooding the market. So if you've got a favorite bulb that you don't see in this list, tell us all about it in the discussion below!
REF: Gizmodo
Commercial Lighting Tampa FL, 813-935-4448 / 813-514-1264 / 813-514-1265 / 813-932-1086 / 813-932-1547 / 813-935-8235

CommercialLightingTampa.com, 8139354448 / 8135141264 / 8135141265 / 8139321086 / 8139321547 / 8139358235
Call Us Today!
813-514-1266
813-935-4448
8135141266
8139354448