GE Opens a Pricing War Over the Connected LED Light Bulb
Lighting makers keep their options open for smart home platforms.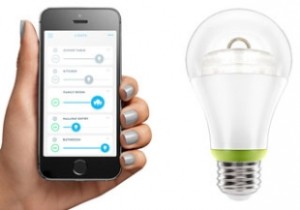 Just over a year ago, the emergence of a sub-$10 light-emitting diode (LED) bulb was big news for the lighting industry. The same pricing trends are headed for smart bulbs too.
Now, for just a few dollars more, consumers can buy a GE LED light bulb for their homes that can be controlled from a smartphone. General Electric's latest LED bulb, Link, went on sale this week at Home Depot and will hit stores in the fall.
The Link is available in three different bulb designs, an A19 60-watt replacement in soft white, a soft-white indoor floodlight, and an indoor/outdoor bright white spotlight. The bulbs are priced at under $15, $20 and $25, respectively. A starter kit with the GE Link hub and two A19, 60-watt replacements will sell for less than $50, according to GE.
Instead of building its own smart home platform, GE has partnered with Wink for its Link bulbs. "We think Wink is onto something with the openness of their platform," said Megan Lavelle, a spokesperson for GE Lighting. "Because of its openness, this will be the most helpful for consumers navigating the connected home space."
Wink grew out of the collaborative design startup Quirky that has developed products from decorative muffin toppers to the Aros smart window AC. The Wink platform wants to be an open system to control devices across the home using Apple or Android mobile devices, including Android Wear. Devices can connect via Wi-Fi, Bluetooth, ZigBee, Z-Wave or Clear Connect. Besides GE, Wink counts a few other major brands, such as Lutron and Schlange, as product partners.
GE also has a partnership with Lutron for the GE telligent LED, an indoor floodlight that is embedded with Lutron's Clear Connect technology so that it can be dimmed wirelessly. The Link is the first GE bulb, however, that can be controlled from a smartphone.
For now, GE is betting on Wink , but since Link bulbs are ZigBee certified, "in theory it could work for other platforms," said Lavelle.
The Link is GE's answer to other offerings like the Philips Hue, a connected, wireless, color-changing LED bulb that has a starting price point for a single bulb about three times the cost of the Link A19. It's also cheaper than TCP's connected system, which offers a starter kit of two A19 bulbs and a gateway for $100.
Lighting makers and other home appliance manufacturers are backing a wide range of startups in the smart home space, but they also don't want to limit their options. Lavelle said that GE would likely migrate to whichever platform consumers adopt, a sentiment that has been echoed by other white goods manufacturers.
For startups like Wink, the entrance of large players like Google and Apple into the smart-home platform space is both an opportunity and a threat. The marquee brands bring visibility to the emerging smart home platform, but they could also overshadow smaller companies looking to gain a toehold.
Last week, Google's Nest announced the integration of some household brands, including Whirlpool washers and dryers and Jawbone fitness bands, onto its platform. LIFX Wi-Fi light bulbs, which retail for $99, are also on the list of technologies that will be compatible with Nest.
"We are excited to see them embracing the open ecosystem and integrating with other brands," Matt McGovern, head of marketing at Quirky, said about Nest.
Some of GE's lighting competitors, including Osram Sylvania and Philips, have already announced that they will have MFi-certified products to integrate withApple's HomeKit. Osram Sylvania's iQ indoor LED floodlights are also available on Comcast's Xfinity Home platform.
As lighting manufacturers compete for market share in the budding LED sector, they are looking to find the right technology partners to get a competitive advantage. The home controls market is very young, so lighting companies will have to be flexible and focused in their strategy. Once consumers purchase long-lasting LEDs, it will likely be many years before they make the switch again.
Commercial Lighting Tampa FL, 813-935-4448 / 813-514-1264 / 813-514-1265 / 813-932-1086 / 813-932-1547 / 813-935-8235

CommercialLightingTampa.com, 8139354448 / 8135141264 / 8135141265 / 8139321086 / 8139321547 / 8139358235
Call Us Today!
813-514-1266
813-935-4448
8135141266
8139354448